March 5, 2011
First we were forced to switch from the type-writer to the computer. Then came the transition from the print media to Internet media. Now we are being thrust in to a world of photojournalism, blog journalism, Twitter journalism, and most importantly: audio journalism.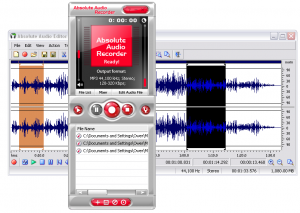 You might be asking yourself what is so great about audio journalism. Why does Jim Stovall say, "audio journalism is important because it is the dominant form of information distribution on The Next Big Thing in Journalism: mobile journalism." How can someone possibly say that audio is more intriguing than videos or photographs? In this post, I hope to help you navigate the confusing world of audio and understand why it is so important format to journalism today.
Audio has many great benefits that many other formats do not have because of how flexible it is. As National Public Radio has shown us over the years, audio hosts are able to make a true connection to their audiences. These connections may be a result of the fact that audio offers the following:
Presence: allows a reporter to "literally bring readers to the story"
Emotion: "tone of voice, expressions, intonation and pauses can enhance the message
Atmosphere: "natural sound helps pull the listener in close"
Because audio has benefits that are incomparable to other forms of media, it is no wonder that Karin Hogh says, "audio can be as powerful in journalism as written articles of even TV and video."
In order to start making use of this powerful media outlet, you will need just two things:
A digital recorder: ranges in price from $30 to $300; when researching one to buy, keep in mind recording quality, digital file format and compatibility with your computer, ease of use and ease of transferring files.
Software: allows you to manage and edit sound files. When using audio, make sure you record in WAV format and that the software is set to capture data through a microphone input.
After you record your interviews, voice overs, or natural sounds, it is time for you to begin editing. The most basic thing you need to remember when editing is to keep the parts that are most important to telling your story. Listeners will lose interest by repetitive or unimportant information. Once you have perfected your sound clips and compressed them in to an MP3 player you are ready to upload them to the internet. The following offers a list of how your sound clips can be used:
Stand-alone audio file with news story or blog post
Podcast, or a file that can be downloaded to a mobile device or played on a computer
Vodcast, or sound file with video
Audio accompaniment to a photo slide show
Once you have perfected the basic skills of audio reporting, you, like so many others, will understand why Stovall says, "reports and journalism students must stop thinking about sound as an exclusively radio format and adopt it as a reporting tool that can be used to effectively deliver information to readers or listeners."
Entry Filed under: Briggs "Journalism Next" Chapter Reviews. Posted in Briggs "Journalism Next" Chapter Reviews Tags: Chapter seven; audio; national public radio; podcasts;.